When I take a walk down memory lane, I am pretty sure pregnancy has by far been the most cherished period. No doubts, I had my share of if's and but's through the nine months, but that said, the hospital I consulted in made my experience a truly memorable one and that made all the difference! Any pregnant woman would like to be treated well, particularly while she is in labour. With this in mind, most birthing centres today have packages which are sketched out, keeping the basic needs of the newborn and the new mommy as their primary motto.
Mumbai has a whole lot of birthing centres which are well known for their infrastructure and experience. So if you are planning to deliver your little one in Mumbai here's a list of birthing hospitals to check out.
Nanavati Hospital, Vile Parle

Image source: google.com
Nanavati Hospital located in Vile Parle is a well-known name for Mumbai city residents. Medical service provided by the hospital matches international standards. The maternity section of the hospital has highly trained and experienced obstetricians. Their facilities include painless delivery, the progress of labour examined through fetal monitors, Specialized operation theatres for C-section delivery, post-natal and antenatal classes for pregnant women, diet and nutrition counselling sessions etc.
Website: Nanavati Hospital
Address: Dr.Balabhai Nanavati Hospital, S.V. Road, Vile Parle (West), Mumbai 400056
Contact: 22 26267500
Email: marketing@nanavatihospital.org
Cloudnine, Malad West

Image source: google.com
Cloudnine has carved a niche for itself in the city with over 13 branches. Their services include pregnancy, gynaecology, fertility, neonatal, paediatric care etc. From expert care to hospitality, home-like atmosphere and specialised fetal medicine, there is more than just one reason for you to choose Cloudnine.
Website: Cloudnine
Address: Cloudnine Hospital, Siddhachal Arcade, CTS Nos. 1084C and 1186A Link Road, Malad West, Mumbai 400064
Contact: 91 18605009999
Email: info@cloudninecare.com

Fortis Hospitals, Mulund

Image source: google.com
Fortis Hospitals has cutting-edge technological support for treating every expecting mother and giving her a very pleasant prenatal and post-natal experience. Expert gynaecologists and obstetricians are always ready to provide top most medical care to patients for a safe delivery.The blood bank in this hospital has been the first facility to receive National Accreditation Board for Laboratories. They have facilities to detect fetal growth and abnormalities if any, They also offer treatment for couples suffering from infertility.
Website: Fortis Hospitals
Address: Mulund Goregaon Link Road, Mulund-West, Mumbai 400078
Contact: 918310385862
Email: enquiry.mulund@fortishealthcare.com
Lilavati Hospital & Research Centre, Bandra West
Image source: google.com
The department of Gynaecology and Obstetrics offers a spectrum of services with a view to expanding the horizon of hi-tech care. The latest advances in both the field of Obstetrics and Gynaecology accompanied by highly qualified, senior and experienced gynaecologists make this department one of the best. They specialize in high-risk pregnancy for continuous fetal monitors, epidural anaesthesia for painless delivery and baby friendly nursing care with lactation management.
Website: Lilavati Hospital & Research Centre
Address: Lilavati Hospital & Research Centre, A-791, Bandra Reclamation, Bandra (W), Mumbai 400050
Contact: 22 26666666 /22 26568000
You may also like: Directory Of Lactation Consultants In Mumbai, Delhi, Bangalore
SevenHills Hospital, Andheri
Image source: google.com
SevenHills hospital in Andheri boasts of high-end infrastructure, services and facilities. Their state-of-art maternity unit is equipped with ultra-modern technologies and has a team of best obstetricians and gynaecologists on board. The sophisticated exclusive labour rooms are equipped with resuscitation units and advanced monitors, and the rooms are equipped with emergency and life-saving equipment, antenatal and postnatal consultation for pregnant women,
Website: SevenHills Hospital
Address: SevenHills Health City, Marol Maroshi Road, Andheri East, Mumbai 400059
Contact: 022 67676767
Email: response@sevenhillshospital.com
You may also like: List Of The Best Montessori Playschools In Suburban Mumbai
S. L. Raheja Hospital, Mahim

Image source: google.com
S.L. Raheja Hospital in Mahim ranks amongst the best in Mumbai. The gynaecology department has an excellent panel of doctors to oversee maternity and delivery cases and it caters to the entire spectrum of child and women care; during and after pregnancy. They specialize in painless delivery cases along with high-risk pregnancies. They also have specialized professionals to advise on family planning, a well equipped NICU and ICU, trained neonatologists and paediatricians to provide care to infants.
Website: S.L. Raheja Hospital
Address: S.L. Raheja Hospital, Raheja Rugnalaya Marg, Mahim (W), Mumbai 400016
Contact: 022 66529888
Email: info@rahejhospital.com
Kohinoor Hospital, Kurla

Image source: google.com
Kohinoor Hospital is located in the central suburbs of Mumbai. The department of gynaecology and obstetrics is well equipped with highly trained obstetricians who provide world-class medical treatment and personalized attention to each patient. Special facilities for ante-natal management for high-risk pregnancy cases, emergency caesarean delivery in case of difficult labour, complications during childbirth etc. are handled with ease. They have lactation consultants who help new mothers with proper breastfeeding techniques as well as give information about nutrition and diet during pregnancy and after delivery,
Website: Kohinoor Hospital
Address: Kohinoor Hospital, Kirol Road, Off LBS Road, Kurla (West) Mumbai 400070
Contact: 022 67556755 / 022 42534253
Email: info@kohinoorhospitals.in
You may also like: Oh! Fudge! Tried These Sweet Treats Yet?

Hiranandani Hospital, Vashi

Image source: google.com
Hiranandani Hospital situated in Vashi is a renowned healthcare provider in the city. Maternity department of the hospital has kind staff who is always ready to assist you and help you overcome pain. The team of expert obstetricians ensure that you undergo safe child delivery and make your birthing experience memorable. Provision for painless delivery, management of late pregnancy and high-risk pregnancy, forceps delivery provision in times of emergency and non-invasive prenatal testing is available at the hospital.
Website: Hiranandani Hospital
Address: Hiranandani Hospital, Mini Sea Shore Road, Sector 10, Vashi, Navi Mumbai 400703
Contact: 022 39199222
Email: online.vashi@fortishealthcare.com
Breach Candy Hospital Trust

Image source: breachcandyhospital.org
Mumbai's Breach Candy is the hotspot for many celebrities. The maternity department is managed by highly experienced gynaecological doctors who offer specialized attention and compassionate care for women. Obstetricians follow evidence-based medicine, for the overall wellbeing of the mother and babies before, during, and after delivery. You stay will be a comfortable and memorable one.
Website: Breach Candy Hospital
Address: Breach Candy Hospital Trust 60 A Bhulabhai Desai Road Mumbai 400026
Contact: 22 23667949 / 22 23667788
Email: info@breachcandyhospital.org
Kokilaben Dhirubhai Ambani Hospital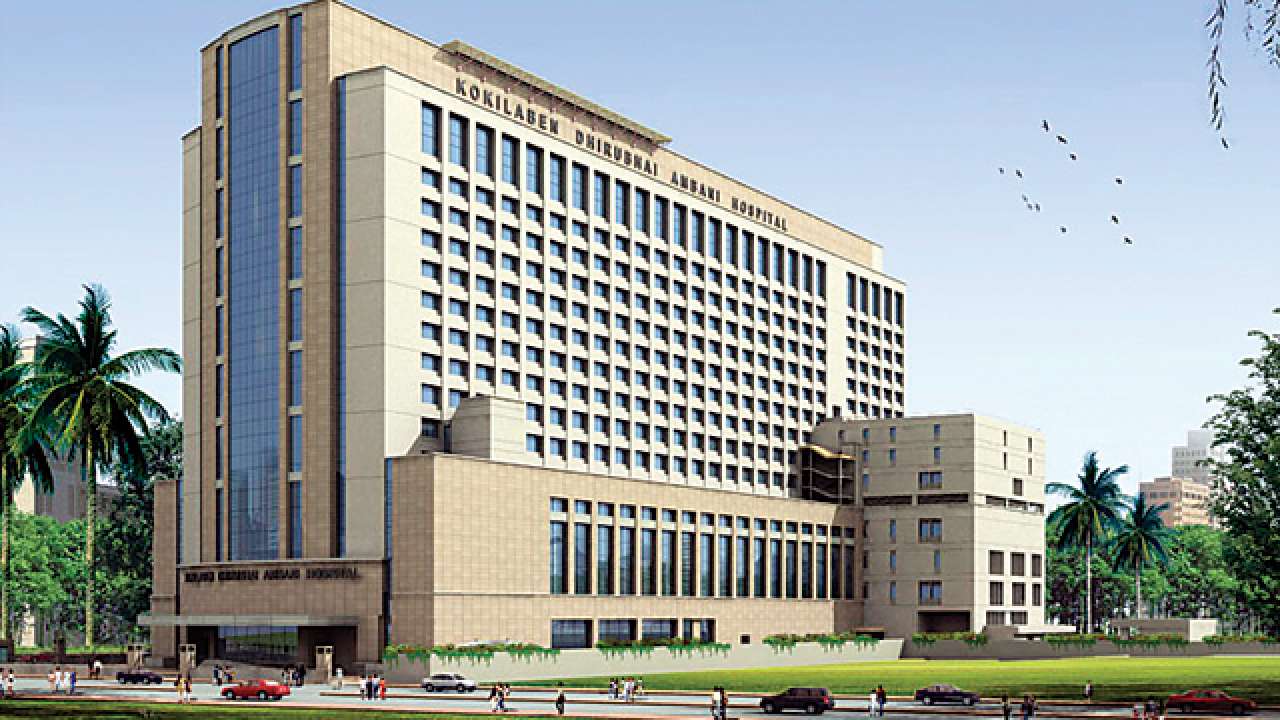 Image source: google.com
Kokilaben Dhirubhai Ambani Hospital offers a host of facilities to ensure high quality antenatal care to treatment for expectant mothers, new mothers and babies. The maternity centre deals with everything from preconception planning to pregnancy care, child birth and postpartum care. They want everything to go in the safest possible way from conception to pregnancy, delivery and post-delivery care.
Website: Kokilaben Dhirubhai Ambani Hospital
Address: Kokilaben Dhirubhai Ambani Hospital, Rao Saheb, Achutrao Patwardhan Marg, Four Bungalows, Mudran Press Colony, Andheri West, Mumbai 400053
Contact: 22 30999999
Hinduja Healthcare. Khar

Image source: facebook.com/HindujaHealthcareSurgical
An entire floor is dedicated to Mother and Child Care. They have special birthing suites consisting of automated labour beds, a separate neo-natal intensive care unit (NICU) and an independent labour room to make sure everything works out smoothly for both mother and child. The unique birthing suites are designed with easily convertible labour beds to ensure that the birthing process is smooth and comfortable to avoid the tedious and painful switch of rooms before and after delivery.
Website: Hinduja Healthcare
Address: Hinduja Healthcare, 724, 11th Road, Khar West, Mumbai 400052
Contact: 22 26469999/ 61746000
Email: contactus@hindujahealthcare.com
You may also like: Breastfeeding 101 Tips & Advice for New Moms